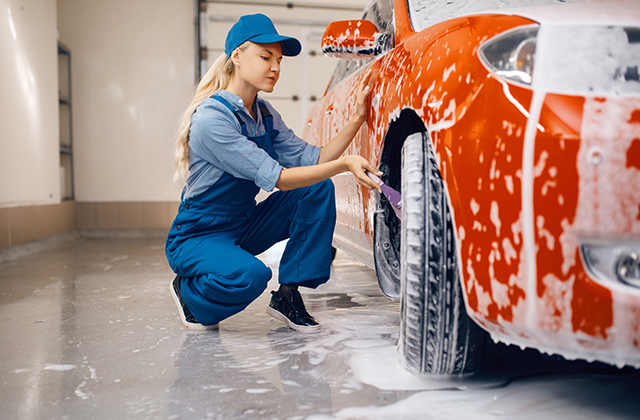 In today's fast-paced world, finding efficient and effective ways to keep your car looking clean and polished while on the go is essential. With limited time and resources, traditional car washing methods might not always be feasible. This is where products like quick detailers and waterless washes come into play. Both offer convenient solutions for maintaining your vehicle's appearance without the need for a full car wash bucket setup. But which one is right for you? Let's delve into the details and find out.
The Quick Detailer: Instant Shine in a Bottle
Quick detailers are the go-to choice for those moments when your car's paint needs a quick pick-me-up. These products are formulated to remove light dust, fingerprints, smudges, and other minor surface contaminants while leaving a glossy finish behind. Quick detailers typically come in spray bottles, making them incredibly easy to apply. With just a few spritzes and a gentle wipe with a microfiber cloth, you can achieve a showroom-worthy shine in minutes.
The main advantage of a quick detailer is its speed and convenience. It's perfect for situations where you want to enhance your car's appearance before a special event, a meeting, or a quick drive around town. However, it's important to note that quick detailers are not designed to replace regular washing. They excel at touch-ups but may struggle with more stubborn dirt or grime.
The Waterless Wash: Clean Without the Hose
Waterless wash products take convenience to the next level by allowing you to clean your car without the need for a hose and traditional car wash bucket. These formulas are specifically designed to encapsulate dirt particles, lifting them away from the surface and preventing scratches as you wipe them off with a microfiber cloth. Waterless washes are versatile and can be used on a moderately dirty vehicle, making them a great option for light cleaning when you're short on time.
Waterless washes are an eco-friendly alternative to traditional car washing because they use less water. They are also suitable for areas with water restrictions or limited access to water sources. However, like quick detailers, waterless washes are not meant for heavy-duty cleaning, and they work best on vehicles with light dirt accumulation.
Choosing the Right Product for You
So, which product suits your on-the-go cleaning needs: the quick detailer or the waterless wash? The answer depends on the level of dirt and the desired level of cleanliness. If your car is lightly dusty or has minor smudges, a quick detailer can quickly restore its shine. On the other hand, if your car has a bit more dirt buildup, a waterless wash might be a better choice to ensure a thorough clean without the need for water.
Consider keeping both products in your car care arsenal. A quick detailer is perfect for those last-minute touch-ups that give your car an instant facelift. Meanwhile, a waterless wash can handle slightly more demanding cleaning situations without requiring a full traditional wash setup.
In conclusion, when it comes to maintaining your car's appearance on the go, quick detailers and waterless washes are valuable tools in your cleaning kit. They offer quick and effective solutions to keep your vehicle looking its best without the need for a dedicated car wash bucket and hose. So, whether you're preparing for a special occasion or simply want to keep your car looking sharp between regular washes, these products have got you covered. Go here to find what is the best car wash method for you.